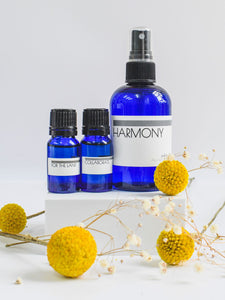 Magnetically attract what you want in your life
When these blends are combined with your intent, they can magnetically attract what you want into your life. Together, they create the geometry to help you feel grounded, complete, and clear.
For the Land releases karma and creates deep, powerful, grounding grids within you and your energetic space.  When diffused or applied to your body, you become part of the geometry, a light on the grid.
Bring in our Harmony  blend to align and open the throat, solar plexus, and root chakras and to help hold the grid that's been set. 
Adding Collaborate promotes balance and empathy.
How can you use this pack?
- Spray Harmony on furniture or linens to help support yourself and others in feeling & exuding harmony. 
- Set the intent for your property and apply 1 drop For the Land every 6 feet or so while repeating your intent.
Repeat as often as you need; it will help release karma from your property or space, and it supports 5d crystalline grids as they gather and hold the new vibration.
You can also diffuse the oils to feel your space transform.
Add to your diffuser:    
4 drops of For the Land
2 drops of Collaborate