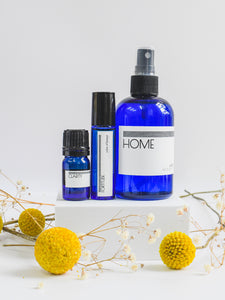 Are you looking for strength? The ability to set and hold boundaries? To remember who you are and why you're here?
It's easy to get off track when you have to live in a patriarchal system. When you have to answer to people who treat you like a number, it wears on you.
If you find yourself unable to set basic boundaries without the people around you giving you hell for doing it, it's time to tell the patriarchal beliefs and systems to dim so you can shine bright.
Find yourself, hold firm. Slow down, breathe. Remember what you've forgotten.

This pack supports you as you find your place outside of the patriarchal system.
Included in our F*ck the Patriarchy Pack:
Each blend guides you into and supports the overall vibration of personal and spiritual sovereignty. Leave the collective worries behind and brighten your light.